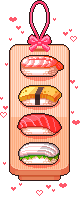 Remember to keep it cozy!

---
New harrassment, hate speech, and politics rules on our sister site
Uboachan
aim to make it a little more comfy and help repair its reputation.
Uboachan is a darker, decade old imageboard centered around Yume Nikki fans and fangames, spooky/horror aesthetic, indie gaming, gamedev, NEETs, and NEET recovery.
---